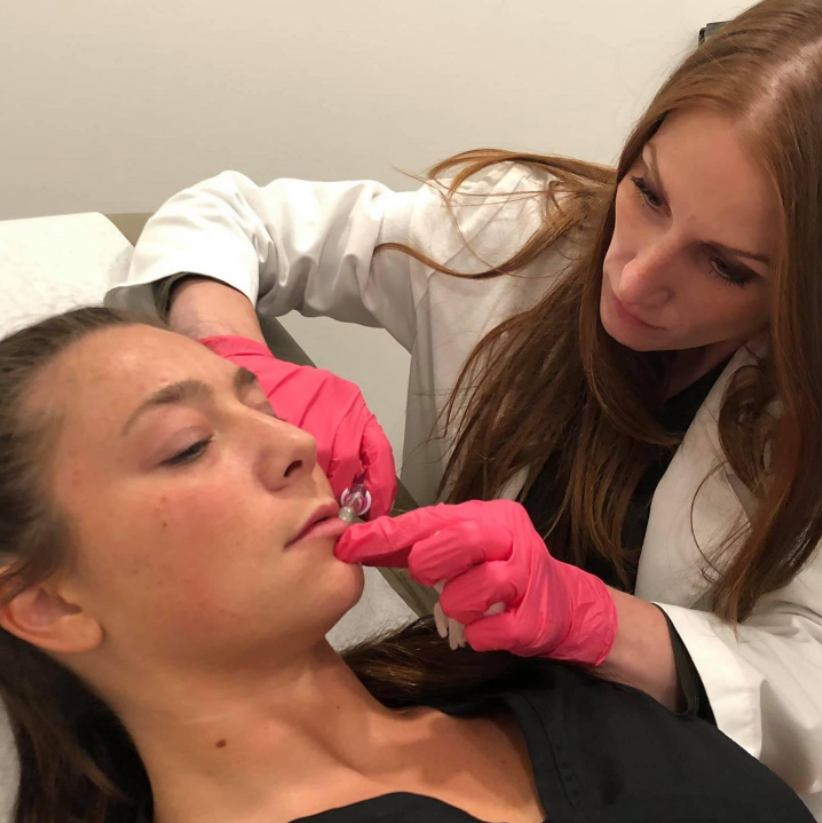 Meet Your Practitioner


About Christine Gerena
Christine Gerena, PA-C, is a master aesthetics injector at Beauty Bomb Aesthetics, with over 14 years of experience in the field. With a background of more than 15 years as a Physician Associate, Christine brings an unparalleled level of knowledge and expertise to her aesthetics practice here on Long Island. She has a diverse professional background, having worked in family medicine as well as pediatric and adult neurosurgery, but her true passion lies in the aesthetics industry. Recognized internationally as an elite injector, Christine's training has been honed by world-renowned plastic and cosmetic surgeons, which has further elevated her skills to deliver exceptional results.

As an artist at heart, Christine Gerena combines her extensive physiological knowledge with her artistic abilities to create outcomes that are truly bespoke. She specializes in complex injections and procedures that require a high level of sophistication and mastery of the art and science of aesthetics injections. Christine's proficiency in combining the right techniques, approach, and products makes her a premium injector, offering the very best in the industry. Her commitment to achieving the results her clients desire, combined with her unwavering dedication to proper technique and safety, instills confidence in her patients that they are in expert hands.

Christine Gerena's approach to aesthetic injections sets her apart as a leading expert in her field. Her unique combination of artistic vision, extensive experience, and world class training enables her to deliver results that are on par with the best in the industry. With Christine, clients can expect a personalized approach and gentle touch that takes into consideration their unique facial anatomy and desired outcomes. Her meticulous attention to detail, coupled with her passion for aesthetics, makes her a trusted and sought-after injector. In addition to her clinical practice, Christine's reputation as a respected educator in the aesthetics industry, training other injectors, further demonstrates her expertise and dedication to advancing the field. With Christine Gerena, PA-C, clients can be confident that they are receiving the highest level of care and expertise in aesthetics injections and procedures.

FAQ
Frequently Asked Questions

Are fillers and anti-wrinkle injections safe?
Yes. All of our procedures are FDA-approved for reversing lines and wrinkles. However, if you are pregnant, breastfeeding, or have certain neurological conditions, then you should not receive treatment.

How does Botox work?
Botox
®
works by temporarily paralyzing the muscles that cause fine lines and wrinkles to form on the face. The active ingredient in Botox
®
, botulinum toxin, blocks the signals that tell the muscles to contract, resulting in smoother, more youthful-looking skin.

Can anyone administer Botox?
No. Botox is a prescription drug that may only be dispensed by a physician. It's important to choose a physician who is trained and experienced with injections and fillers to ensure the best results.
Are your treatments painful?
Most procedures are not considered painful. However, some patients might experience a brief period of discomfort which then subsides after the procedure is complete.
How soon will I see results?
This will ultimately differ from patient to patient. Some might see the effects of treatment in 3 - 5 days while for others, it could take up to two weeks.

How long does anti-wrinkle treatment last?
On average, it lasts between 3 - 5 months from the date of injection. Patients have the option to maintain their results for longer periods by undergoing periodic maintenance treatments every 3 - 4 months.
Some side effects from our anti-wrinkle treatment may include bruising, swelling, redness, or tenderness around the injection site. These typically resolve in about a week.

Schedule Your Consultation
No pressure. No obligation. Contact us today to make an appointment.